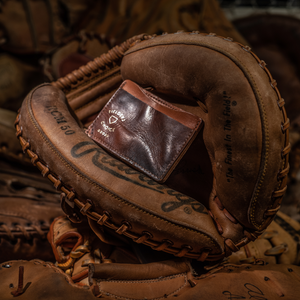 THE LEGACY IS IN THE LEATHER
About us
Inspired by the everyday hustle of Baseball's Golden Era, Fielder's Choice Goods was established in 2012 to revive vintage baseball gloves and repurpose them into functional products we use daily. But 10 years later, it's more than baseball. Fielder's Choice Goods is about preserving American culture and the pursuit of the American Dream. It's about giving new life to our favorite artifacts and constructing timeless leather goods that honor the memories, history, and heritage of America's greatest institutions and pastimes.
this is
fielder's choice goods
At Fielder's Choice Goods, we turn the leather we love into the products we need.

watch the video
sourced
UNITED STATES, NORTH AMERICA
constructed
PUERTO PLATA, DOMINICAN REPLUBLIC
OPERATED
SIOUX FALLS, SOUTH DAKOTA
SOURCED
Every glove has a story. No two are the same. After seeing the mountain of baseball gloves on Instagram, we flew to Hartford, Connecticut to see it for ourselves. After experiencing the quality of the collection and learning Brett's story, we knew we had to create something special together. Everything we produce at FC Goods was curated by the world's number one authority on baseball gloves and then shipped south for production.
CONSTRUCTED
After passing our rigorous inspection process to ensure the highest quality of leather, these gloves go by truck to Naples, FL where they are then shipped by boat to the Dominican Republic. Here, our factory breaks down the gloves into usable pieces of leather. Different glove sizes and types produce different types of wallets. Once the leather is broken down by hand, it is then cut and sewn into the masterfully crafted pieces you buy here at fcgoods.com.
WAREHOUSED & OPERATED
After the wallets are made, they leave the D.R. for our warehouse in Sioux Falls, South Dakota, where we handle each item with care as it's packed and shipped to you, our valued customers. Our business operations are headquartered in Sioux Falls, South Dakota.